William Clemens WAY
Forename(s): William Clemens
Surname: WAY
Gentleman
Date of birth: 1820 (approx., calculated)
Date of death: 9 Sep 1905
Date of burial: 13 Sep 1905
Ceremony by: Rev Edwards
Age at death: 85 years
Address: Carisbrooke Road, Newport, Parish of Carisbrooke
Section: I - Cemetery map
Plot No: 14 Section map of plots
Burial Register entry: Carisbrooke 5924
---
---
Also on this marker:
Carisbrooke Cemetery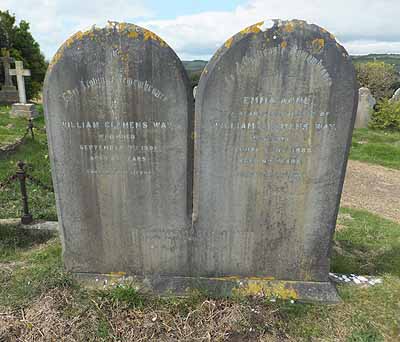 Image by: Tony Barton
---
Inscription
Left stone:
In
Ever Loving Remembrance
of
WILLIAM CLEMENS WAY
WHO DIED
SEPTEMBER 9TH 1905
AGED 85 YEARS.
"LOOKING UNTO JESUS."
Right stone:
In Affectionate Remembrance
of
EMMA ANNE,
DEARLY LOVED WIFE OF
WILLIAM CLEMENS WAY,
WHO DIED
JANUARY 25TH 1888.
AGED 69 YEARS.
TRUSTING IN THE LORD
Underneath:
HE BRINGETH THEM UNTO THE HAVEN
WHERE THEY WOULD BE.
AT HOME WITH THE LORD.
Transcription by: Tony Barton