Friends of Newport & Carisbrooke Cemeteries.
Friends of Newport & Carisbrooke Cemeteries is coming !
also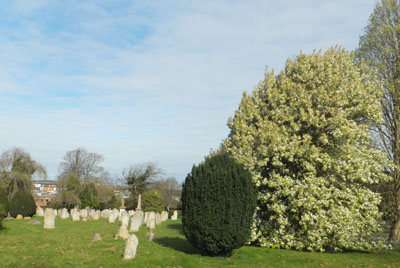 Newport Cemetery in Spring 2017
The aim of this Newport and Carisbrooke Cemeteries Project is to document burials/grave markers at Cemeteries in the modern civil parish of Newport, Isle of Wight - the cemeteries covered are Newport, St Paul's (old and current) and Carisbrooke Mountjoy Cemeteries (plus the old churchyard at St Paul's church Barton).
---
March 2017 - Under an initiative of Newport Parish Council, plans are afoot to form a 'Friends' group with aims including tidying-up these cemeteries and recording the burials within .
April 2017 - Following another meeting of the working party, a visit in early May is planned to each of the 3 cemeteries (Fairlee, Halberry Lane and Mountjoy) with the head of IWC Bereavemernt Services to assess what work volunteers can undertake - this should lead to a more detailed proposal which will form the basis for launching the Friends of Newport & Carisbrooke Cemeteries group.
As plans for the group solidify, more details will appear here.