Friends of Newport & Carisbrooke Cemeteries.
Friends of Newport & Carisbrooke Cemeteries
also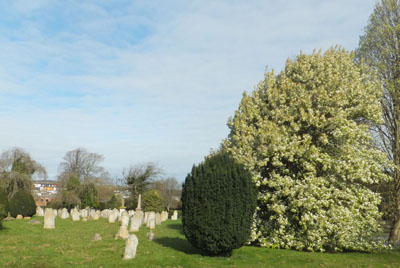 Newport Cemetery in Spring 2017
The aim of the volunteers of the Friends of Newport & Carisbrooke Cemeteries is to clear overgrowth from grave markers and document them together with unmarked burials at Cemeteries in the modern civil parish of Newport, Isle of Wight - the cemeteries covered are Newport, St Paul's (old and current) and Carisbrooke (Mountjoy) Cemeteries (plus the old churchyard at St Paul's church Barton).
Clearing sessions of about 2 hours from 10.30 are scheduled (subject to weather) for:
Carisbrooke Cemetery - 1st Saturday each month
Newport Cemetery - 3rd Saturday each month
Other clearing sessions will be arranged on an ad-hoc basis, just complete an 'Express an interest form' to be kept informed
---
July 2018 - The next Cemetery working session is planned for Carisbrooke (Mountjoy) Saturday 4th August - meet at the chapel about 10.30 - all welcome, whether to help-out, see what we are doing or just to enjoy the view and wildlife etc.
A successful, though somewhat hot, clearing/transcribing session was held at Newport (Fairlee) Cemetery, Saturday 21 July.
We now provide a list to all those recorded at the cemeteries as having died in the two World Wars - these includes not only those buried here but also those who didn't return home but are recorded on family memorials - see the list.
Our Newsletter number 4 is now available in our Newsletter archive. If you would like to be sent future issues via e-mail, just send us a message asking us to add you to the distribution.
---
There's more than just clearing vegetation, so if you are interested in becoming involved, let us know you skills/interests using the 'Express an interest form'.
Work is progressing on the website; grave position maps have now been added for all the cemeteries. Also more details and pictures are also being added to individual records.