Friends of Newport & Carisbrooke Cemeteries.
Friends of Newport & Carisbrooke Cemeteries
also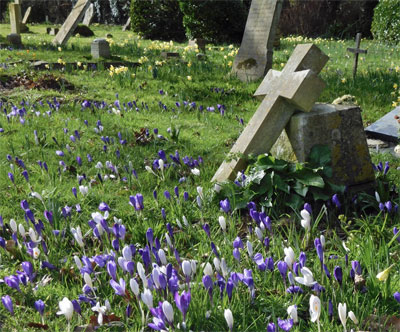 Spring flowers amongst the graves, St. Paul's Cemetery (Liz Priddle)
The aim of the volunteers of the Friends of Newport & Carisbrooke Cemeteries is to clear overgrowth from grave markers and document them together with unmarked burials at Cemeteries in the modern civil parish of Newport, Isle of Wight - the cemeteries covered are Newport, St Paul's (old and current) and Carisbrooke (Mountjoy) Cemeteries (plus the old churchyards at St Mary's Carisbrooke and St Paul's church Barton).
Due to the current Covid 19 Coronavirus situation, it has been decided to suspend all activities in the cemeteries until further notice, to be kept informed just complete an 'Express an interest form'.
If you would like to contribute to the group, but don't wish, or can't, help with the clearance of vegetation; let us know and we may have another way you can help - you don't need to live locally, transcribing newspaper reports etc. can be carried out wherever you live.
---
Our Newsletter number 12 (May 2020) is now available in our Newsletter archive. If you would like to be sent future issues via e-mail, just send us a message asking us to add you to the distribution.

December 2019 - A number of the grave markers at St. Mary's Carisbrooke churchyard have been added to the burial database.
January 2020 - This site now includes a list of Churches, Chapels etc. in the area; any additions, comments welcome.

---
There's more than just clearing vegetation, so if you are interested in becoming involved, let us know you skills/interests using the 'Express an interest form'.
Work is progressing on the website; grave position maps have now been added for all the cemeteries. Also more details and pictures are also being added to individual records.