Friends of Newport & Carisbrooke Cemeteries.
Friends of Newport & Carisbrooke Cemeteries is coming !
also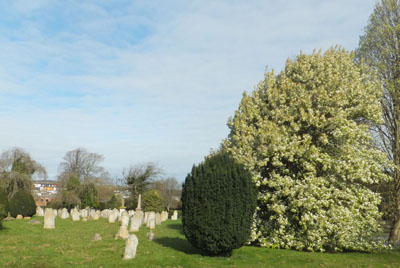 Newport Cemetery in Spring 2017
The aim of this Newport and Carisbrooke Cemeteries Project is to document burials/grave markers at Cemeteries in the modern civil parish of Newport, Isle of Wight - the cemeteries covered are Newport, St Paul's (old and current) and Carisbrooke Mountjoy Cemeteries (plus the old churchyard at St Paul's church Barton).
---
October 2017 - Session continue at both Newport and Carisbrooke Cemeteries to clear grave markers - if you would like to become involved, just complete the 'Express an interest form'.
The database on this website now includes the names of all thoses buried:
at Newport up until 2000,
at Carisbrooke up until 1973,
at St Paul's up until 2000.
Some burials after these dates have been recorded where a grave marker has been located. As well as adding more names over the months to come, additional information will be added for the names already recorded.
August 2017 - We've now had successful sessions at both Newport & Carisbrooke cemeteries clearing ivy etc from grave markers and will arrange more sessions. To join us, complete the 'Express an interest form' and we'll keep you informed of when we plan future sessions.
The burials listed on this website now includes ALL burials at Newport (Fairlee) Cemetery up to 2000 (although some details, (occupation, addresses etc.) still need to be added to some records.)
July 2017 - A couple of successful sessions have been held at Newport Cemetery making a start to clearing some ivy and brambles etc. A session planned for Carisbrooke Cemetery had to be cancelled due to poor weather - another session at Carisbrooke Cemetery will be planned in the near future.
June 2017 - Agreement has been reached with the IWC Bereavement Services Department for the Method of Working and Risk Assessment for the FoNCC activities in the cemeteries. A couple of sessions are planned for the 'founder' group members and then a general invitation for volunteers will be made. For those interested, have a look at the Volunteers page.
March 2017 - Under an initiative of Newport Parish Council, plans are afoot to form a 'Friends' group with aims including tidying-up these cemeteries and recording the burials within .