George Henry HOBBS
Forename(s): George Henry
Surname: HOBBS
Soldier
Date of birth: 1896 (approx., calculated)
Date of death: 7 Oct 1917
Date of burial: 12 Oct 1917
Ceremony by: Rev Atkinson
Age at death: 21 years
Address: Barton's Village, Newport, Parish of St Paul's, Barton
Section: H - Cemetery map
Plot No:
38
Section map of plots
Burial Register entry: St Paul's 1032
---
IWCP - 13 October 1917 - THE ISLAND AND THE WAR - NEWPORT - News was received on Sunday that Corpl. George H. Hobbs, of Bartons-village, had died in Highfield Hospital, Hythe, where he had been ill for over 1 1/2 years from sickness contracted in the trenches. He was a regular soldier, 22 years of age, and his regiment was prominent in the Gallipoli campaign, since which it has been on the Western front. Much sympathy is felt with the bereaved family. - The funeral took place yesterday (Friday) at St. Paul's Cemetery, with military honours, in the presence of a large assemblage.
---
External link(s):
St Paul's Cemetery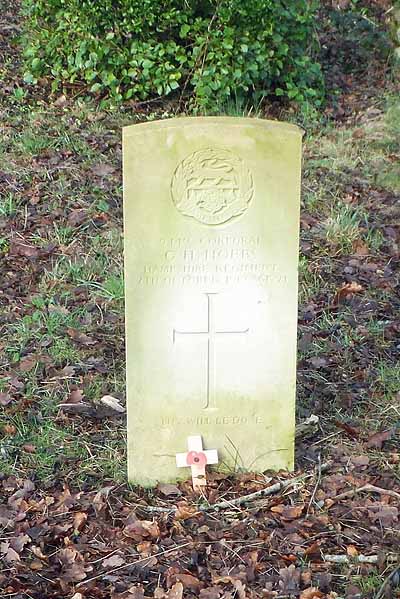 Image by: Tony Barton
---
Inscription
9449 CORPORAL
G. H. HOBBS
HAMPSHIRE REGIMENT
7TH OCTOBER 1917 AGE 21
THY WILL BE DONE
Transcription by: Tony Barton