Ernest Leonard LEAL
Forename(s): Ernest Leonard
Surname: LEAL
Date of birth: 1891 (approx., calculated)
Date of death: 9 Apr 1915
Age at death: 24 years
---
External link(s):
---
---
Also on this marker:
Carisbrooke Cemetery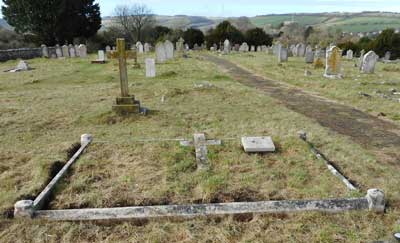 Image by: Tony Barton
---
Inscription
South kerb:
BLESSED ARE THE DEAD THAT DIE IN THE LORD FOR THEY REST FROM THEIR LABOURS. THY WILL BE DONE.
West kerb:
IN LOVING MEMORY OF
CECIL JACK LEAL, LATE MACHINE GUN CORPS, THIRD SON OF ERNEST JOHN AND HANNAH LEAL, WHO DEPARTED THIS LIFE AT THE RYDE COUNTY HOSPITAL ON MAY 31ST 1919 AGED 25 YEARS.
ALSO OF LCT. CORP. ERNEST LEONARD CHAMBERS LEAL, R.E.
WHO WAS KILLED IN FRANCE ON APRIL 9TH 1915 AGED 24 YEARS
North kerb:
IN LOVING MEMORY OF HANNAH BELOVED WIFE OF E.J. LEAL WHO DIED 22ND JUNE 1935 AGED 74 YEARS. AT REST.
East kerb:
IN MEMORY OF ERNEST JOHN LEAL WHO PASSED PEACEFULLY AWAY FEBRUARY 2ND 1951 AGED 87 YEARS. AT REST.
Separate plaque on top:
81299 PRIVATE
C.J.LEAL
MACHINE GUN CORPS (INF.)
31ST MAY 1919 AGE 25
Transcription by: Tony Barton