Albert Edward WILTON
Forename(s): Albert Edward
Surname: WILTON
Soldier
Date of birth: 1891 (approx., calculated)
Date of death: 23 Mar 1918
Date of burial: 27 Mar 1918
Ceremony by: Rev Ayres
Age at death: 27 years
Address: Field Place, Newport
Section: U - Cemetery map
Plot No: 161 Section map of plots
Burial Register entry: Carisbrooke 7734
---
IWCP - 30 March 1918 - KILLED IN ACTION ETC. - WILTON. - Mar. 23, at Stanswood Auxiliary Red Cross Hospital, Fawley, near Southampton, of wounds received at Gallipoli in August, 1915, Rfn. Albert E. Witon, 1.8th Hants Regiment, only son of E.J. Wilton, Cavendish-place, Newport, aged 27.
---
External link(s):
Carisbrooke Cemetery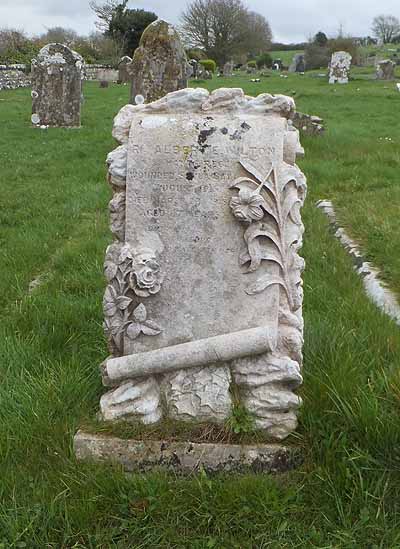 Image by: Tony Barton
---
Inscription
RFN. ALBERT E. WILTON
1/8 HANTS REGT
WOUNDED SUVLA BAY
AUGUST 1915
DIED MARCH 23RD 1918
AGED 27 YEARS

DUTY DONE
HE SLEEPETH
AND WATCHETH O'ER.
Transcription by: Tony Barton