Thomas Bird CHEVERTON
Forename(s): Thomas Bird
Surname: CHEVERTON
Date of birth: 1885
Date of death: 24 Mar 1918
Age at death: 33 years (calculated)
---
IWCP – 20 July 1918 – THE ISLAND AND THE WAR – NEWPORT – "We greatly regret to announce that Major Thomas Bird Cheverton, M.C., R.F.A., sixth son of Ald. R. Bird Cheverton, J.P., who was reported missing on March 24th on the Western front, is now reported killed on that date. He leaves a widow and little boy. When he joined up Major Cheverton was on the London staff of the National Provincial Bank of England, having previously served in the Ryde branch of that bank. At the outbreak of war he was in the Artists Rifles, and afterwards received a commission in the R.F.A., where his ability and many excellent qualities won him rapid promotion. The greatest sympathy is felt for his esteemed family in their irreparable loss." - His Military Cross was awarded in the King's Birthday Honours 1918, without a citation.
---
External link(s):
---
Also on this marker:
Newport Cemetery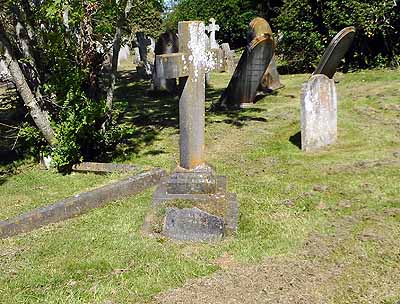 Image by: Tony Barton
---
Inscription
Top crosspiece of cross -on both sides:
In Loving Memory of
South west face:
MY DEAR HUSBAND
RICHARD BIRD CHEVERTON
WHO DIED AUGUST 9TH 1933
AGED 88 YEARS
"LIFE'S RACE WELL RUN, NOW COMES REST."
North east face:
ELIZABETH SARAH
THE DEARLY BELOVED WIFE OF
RICHARD BIRD CHEVERTON
WHO DIED APRIL 27TH 1901,
AGED 51 YEARS.
"AT REST"
North west face:
JANE HARRIET WIDOW OF
RICHARD BIRD CHEVERTON
WHO DIED JANUARY 7TH 1937
AGED 78 YEARS.
"AT REST"
South east face:
MAY CHEVERTON
WHO DIED OCTOBER 24TH 1900
"TO LIVE IN HEARTS WE LEAVE BEHIND IS NOT TO DIE."
Separate stone shield, leaning on east side:
ALSO
OF THEIR SON,
MAJOR
THOMAS BIRD CHEVERTON. M.C.
C.BTY. 223RD. BGDE.R.F.A.
KILLED IN ACTION AT FLERS,
FRANCE, MARCH 24TH. 1918,
AGED 33.
Transcription by: Tony Barton & Kate MacDonell