Albert James HAWKINS
Forename(s): Albert James
Surname: HAWKINS
Date of birth: 1917 (approx., calculated)
Date of death: 3 Apr 1943
Age at death: 26 years
---
External link(s):
---
---
Also on this marker:
Carisbrooke Cemetery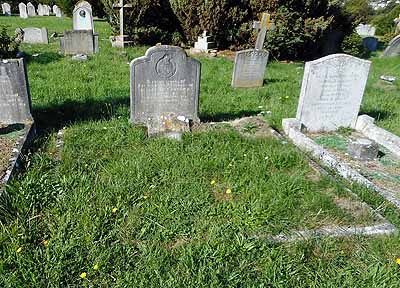 Image by: Tony Barton
---
Inscription
IN LOVING MEMORY OF
A DEVOTED HUSBAND AND FATHER.
ALBERT JOHN HAWKINS,
LATE SERGT. R.E.
WHO PASSED PEACEFULLY AWAY
APRIL 22ND 1932, AGED 53 YEARS
AT REST

Separate plaque:
IN PROUD MEMORY OF
OUR DEARLY LOVED SON
ALBERT JAMES HAWKINS
(JIMMIE)
SGT NAVR R.A.F.
MISSING OVER ESSEN
APRIL 3RD 1943 AGED 26
REUNITED WITH HIS DAD
R.I.P.