Ralph SAWYER
Forename(s): Ralph
Surname: SAWYER
Date of birth: 1894 (approx., calculated)
Date of death: 12 Aug 1915
Age at death: 21 years
Died at: Suvla Bay, Gallipoli
---
IWCP 11 September 1915 - ISLAND TERRITORIAL RIFLES IN ACTION - MISSING .... Rifeman Ralph Sawyer, D. Co., Newport ..........
IWCP 29 July 1916 - FATE OF MISSING ISLAND RIFLES - Official notice of presumed 'killed in action' of those reported missing at Suvla Bay, Gallipoli 12 August 1915 ....Rifeman Ralph Sawyer, D. Co., Newport - Rfn. Ralph Sawyer, D Co., second son of Mr. W. Sawyer, of 32 Trafalgar-road, Newport, was a clerk for Messrs. Jordan and Stanley.
---
External link(s):
---
Also on this marker:
Carisbrooke Cemetery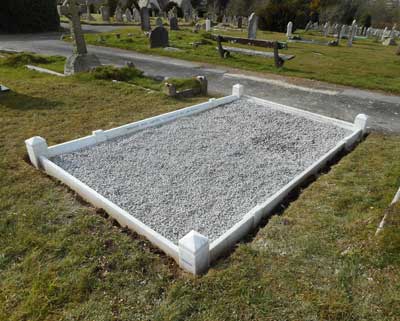 Image by: Tony Barton
---
Inscription
North Kerb:
IN LOVING MEMORY OF IRENE, YOUNGEST DAUGHTER OF W.J. & D.M.SAWYER, WHO PASSED AWAY 4TH JAN. 1931. AGED 26 YEARS.
ALSO HER BROTHERS. WILLIAM, DIED IN FRANCE 12TH APRIL 1917. AGED 24 YEARS.
East kerb:
AND RALPH. DIED IN GALLIPOLI 12TH AUGUST 1915. AGED 21 YEARS.
ALSO OF HER SISTER ALICE. DIED AT EARLSWOOD 7TH APRIL 1919, AGED 18 YEARS.
West kerb:
DEBORAH MARY SAWYER, DIED MARCH 13TH 1957. AGED 91 YEARS.
South kerb:
ALSO WILLIAM J. SAWYER DIED NOV. 25TH 1942 AGED 80.
Transcription by: Tony Barton