Ernest Henry ADAMS
Forename(s): Ernest Henry
Surname: ADAMS
Date of birth: 1868 (approx., calculated)
Date of death: 23 Apr 1885
Age at death: 17 years
Address: Crocker Street, Newport
---
Drowned at sea through sinking of 'Charles George' following a collision off Beachy Head, no record body was recovered / buried.
---
---
Also on this marker:
Newport Cemetery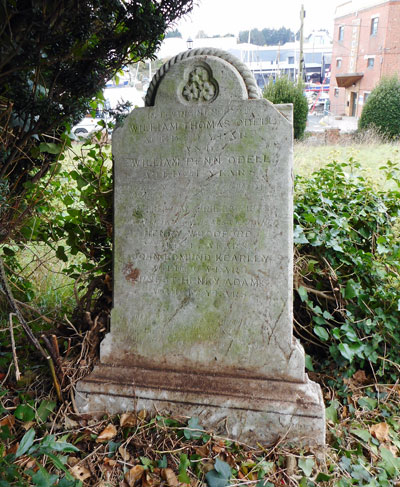 Image by: Tony Barton
---
Inscription
IN LOVING MEMORY OF
WILLIAM THOMAS ODELL.
AGED 50 YEARS.
AND
WILLIAM PENN ODELL.
AGED 24 YEARS.
(FATHER AND SON WHO WERE DROWNED AT SEA
THROUGH A COLLISION OFF BEACHY HEAD.)
ON THURSDAY APRIL 23RD 1885.
THE FOLLOWING WERE ALSO DROWNED
HENRY WOODFORD.
AGED 17 YEARS.
JOHN EDMUND KEARLEY.
AGED 36 YEARS.
ERNEST HENRY ADAMS.
AGED 17 YEARS.
A SUDDEN CHANGE AT GOD'S COMMAND THEY DIED,
THEY HAD NOT TIME TO BID THEIR FRIENDS FAREWELL.
DEATH CAME WITHOUT A WARNING GIVEN,
AND BID THEM MEET THEIR GOD IN HEAVEN.
Transcription by: Tony Barton