William Frederick ARGYLE
Forename(s): William Frederick
Surname: ARGYLE
Boy Telegraphist, RN
Date of birth: 1899 (approx., calculated)
Date of death: 31 May 1916
Age at death: 17 years
---
IWCP - 17 June 1916 - NEWPORT - KILLED - Telegraphist William F. Argyle, H.M.S. Defence. Wireless Telegraphist William Frederick Argyle was the only son of Mr. and Mrs. Argyle, now of Shirley, Southampton, who up to some three years ago were residents of Newport. William Argyle, whose age was only 17, was an old Carisbrooke School boy.
---
External link(s):
---
Also on this marker:
Newport Cemetery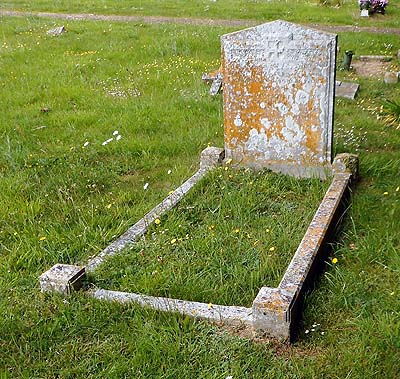 Image by: Tony Barton
---
Inscription
SACRED TO THE MEMORY OF
ERNEST ARGYLE, WHO PASSED
AWAY MAY 1ST 1941 AGED 68 YEARS
ALSO OF
WILLIE ONLY SON OF THE ABOVE,
KILLED IN ACTION AT THE BATTLE OF
JUTLAND 31ST MAY 1916, AGED 17.
"SO HE BRINGETH THEM UNTO THEIR DESIRED HAVEN."
Transcription by: Kate MacDonell & Cherry Farley