Cpl. Oliver Frank (Bob) CHEVERTON
Forename(s): Oliver Frank (Bob)
Surname: CHEVERTON
Bus Driver
Date of birth: 1902 (approx., calculated)
Date of death: 18 Feb 1942
Date of burial: 24 Feb 1942
Ceremony by: Rev W Perry
Age at death: 40 years
Address: 3 Clarence Road, Newport
Died at: Nr Blackpool
Section: F1 - Cemetery map
Plot No: 728 Section map of plots
Burial Register entry: Carisbrooke 11208
---
External link(s):
---
Carisbrooke Cemetery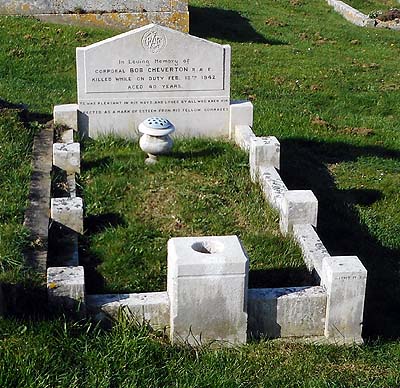 Image by: Tony Barton
---
Inscription
In Loving Memory of
CORPORAL BOB CHEVERTON R.A.F.
KILLED WHILE ON DUTY FEB 18TH 1942
AGED 40 YEARS.
HE WAS PLEASANT IN HIS WAYS, AND LOVED BY ALL WHO KNEW HIM.
ERECTED AS A MARK OF ESTEEM FROM HIS FELLOW COMRADES.
Transcription by: Tony Barton