Alfred James WHITTINGTON
Forename(s): Alfred James
Surname: WHITTINGTON
Date of birth: 1883 (approx., calculated)
Date of death: 12 Aug 1915
Age at death: 32 years
---
IWCP - 11 September 1915 - Lce.-Cpl. A.J. Whittington missing, is the son of Ald. W. J. Whittington, J.P., of Newport, and was in business with his father. He served in the Territorials at Southampton for four years, and on the outbreak of war joined the Island Regiment. He had been for some years Deputy-Captain of the Newport Fire Brigade, an able hon. sec. of the Newport Conservative Rifle Club, and a popular member of the Carisbrooke Bowling Club.
---
External link(s):
---
Also on this marker:
Carisbrooke Cemetery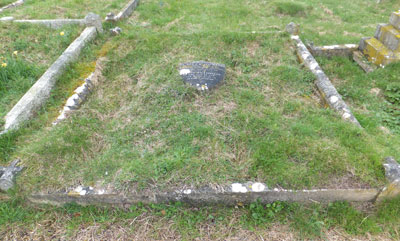 Image by: Tony Barton
---
Inscription
North kerb:
FRANCES THE DEARLY BELOVED WIFE OF W.J.WHITTINGTON DIED SEPR. 21ST 1927 AGED 71
South kerb:
??WILLIAM WHITTINGTON BORN SEPR. 18TH 1856 DIED OCT. 12TH 1951.
Separate plaque:
TO
THE MEMORY OF
ALFRED J.WHITTINGTON,
HANTS REGT.
REPORTED MISSING AT SUVLA BAY
AUGUST 1915 AGED 32.
ALSO
ARTHUR WHITTINGTON,
WHO DIED AT SEA
JAN 4.1921, AGED 29.
"IN GOD'S KEEPING."
Transcription by: Tony Barton