Ralph William COMER
Forename(s): Ralph William
Surname: COMER
[Sawyer]
Date of birth: 1900 (approx., calculated)
Date of death: 11 Aug 1963
Date of burial: 16 Aug 1963
Ceremony by: Rev R Ridge
Age at death: 63 years
Address: Forest Road, Newport
Died at: St Mary's Hospital, Newport
Section: F1 - Cemetery map
Plot No: 935 Section map of plots
Burial Register entry: Carisbrooke 14766
---
---
Also on this marker:
Carisbrooke Cemetery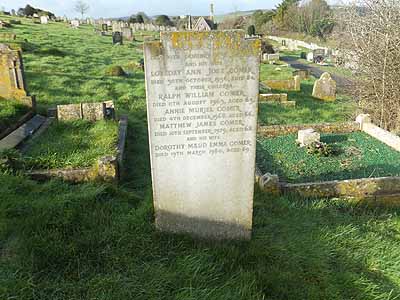 Image by: Tony Barton
---
Inscription
IN LOVING MEMORY OF
WILLIAM COMER
DIED 19TH JANUARY 1936, AGED 71.
AND HIS WIFE
LOVEDAY ANN JOSE COMER
DIED 30TH OCTOBER 1956, AGED 84.
AND THEIR CHILDREN
RALPH WILLIAM COMER
DIED 11TH AUGUST 1963, AGED 63.
ANNIE MURIEL COMER
DIED 4TH DECEMBER 1968, AGED 66.
MATTHEW JAMES COMER
DIED 10TH SEPTEMBER 1979, AGED 68.
AND HIS WIFE
DOROTHY MAUD EMMA COMER
DIED 19TH MARCH 1980, AGED 69.
Transcription by: Tony Barton