Agnes Matilda BENHAM
Forename(s): Agnes Matilda
Surname: BENHAM
Housewife
Date of birth: 1890 (approx., calculated)
Date of death: 28 Sep 1958
Date of burial: 2 Oct 1958
Ceremony by: Rev S F Cooper
Age at death: 68 years
Address: 87 Castle Road, Newport
Section: D2 - Cemetery map
Plot No: 564 Section map of plots
Burial Register entry: Carisbrooke 14064
---
---
Also on this marker:
---
Also in this grave:
Carisbrooke Cemetery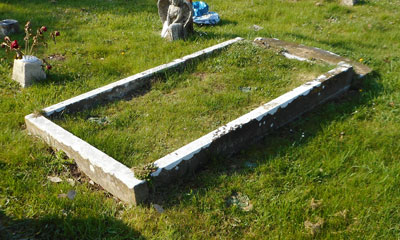 Image by: Tony Barton
---
Inscription
IN LOVING MEMORY OF
A DEAR WIFE AND DEVOTED MOTHER
AGNES M. BENHAM,
WHO FELL ASLEEP SEPT. 28TH 1958.
AGED 68 YEARS.
A SILENT THOUGHT, A SECRET TEAR
KEEPS HER MEMORY EVER DEAR
ALSO HER BELOVED HUSBAND
THOMAS BENHAM.
DIED APRIL 14TH 1970
AGED 81 YEARS.
REUNITED.
Transcription by: Tony Barton