Elizabeth BLAKE
Forename(s): Elizabeth
Surname: BLAKE
Wife of Fredk. Blake, Gentn.
Date of birth: 1797 (approx., calculated)
Date of death: 6 Feb 1883
Date of burial: 10 Feb 1883
Age at death: 86 years
Address: Newport, Parish of Newport
Section: B - Cemetery map
Plot No: 106 Section map of plots
Burial Register entry: Carisbrooke 2689
---
Also on this marker:
---
Also in this grave:
Carisbrooke Cemetery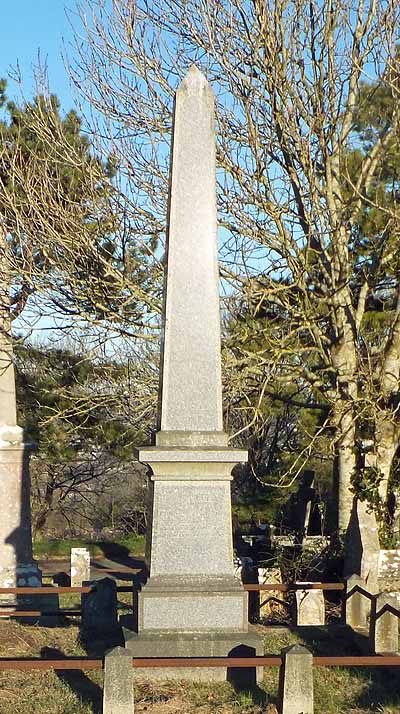 Image by: Tony Barton
---
Inscription
East face:
IN AFFECTIONATE AND
LOVING REMEMBRANCE
OF
FREDERICK BLAKE. ESQ
OF NEWPORT, I.W.
WHO DIED AT SHANKLIN,
ON JANUARY 14TH 1898.
AGED 86 YEARS.
'THE MEMORY OF THE JUST IS BLESSED.'
'YET A LITTLE SLEEP, A LITTLE SLUMBER,
A LITTLE FOLDING OF THE HANDS TO SLEEP.'
West face:
IN MEMORY OF
ELIZABETH
THE BELOVED WIFE OF
FREDERICK BLAKE
OF NEWPORT
WHO DIED FEBRUARY 6TH 1883
AGED 85 YEARS.
THOUGH I WALK THROUGH THE
VALLEY OF THE SHADOW OF DEATH.
I WILL FEAR NO EVIL FOR THOU
ART WITH ME; THY ROD AND THY
STAFF COMFORT ME.
North face:
IN MEMORY OF
EDWARD FREDERICK
ONLY SON OF
FREDERICK AND
ELIZABETH BLAKE
WHO DIED AT SHANKLIN
ON OCTOBER 16TH 1909
AGED 70 YEARS.
South face:
IN LOVING MEMORY OF
AGNES ANNE
WIDOW OF
EDWARD FREDERICK
BLAKE
BORN OCTOBER 21ST 1846
DIED DECEMBER 22ND 1929
Transcription by: Tony Barton