Frederick BARNES
Forename(s): Frederick
Surname: BARNES
Naval Pensioner
Date of birth: 1857 (approx., calculated)
Date of death: 4 Oct 1928
Date of burial: 8 Oct 1928
Ceremony by: Revd H S Footman
Age at death: 71 years
Address: Royal IW County Hospital, Ryde
Section: C1 - Cemetery map
Plot No: 11 Section map of plots
Burial Register entry: Carisbrooke 9219
---
---
Also on this marker:
Carisbrooke Cemetery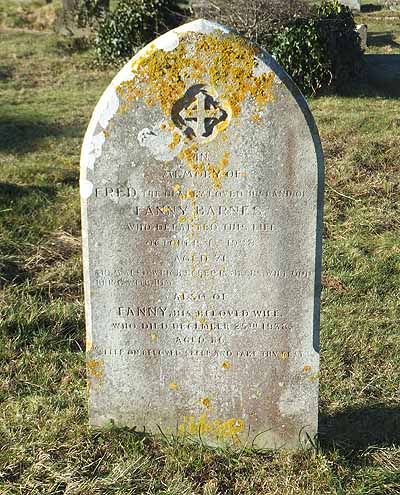 Image by: Tony Barton
---
Inscription
IN
MEMORY OF
FRED, THE DEARLY LOVED HUSBAND OF
FANNY BARNES
WHO DEPARTED THIS LIFE
OCTOBER 4TH 1928.
AGED 71.
"THEM ALSO WHICH SLEEP IN JESUS WILL GOD
BRING WITH HIM"
ALSO OF
FANNY, HIS BELOVED WIFE.
WHO DIED DECEMBER 25TH 1938.
AGED 86.
"SLEEP ON BELOVED SLEEP AND TAKE THY REST."
Transcription by: Tony Barton