Eliza Jane POWELL
Forename(s): Eliza Jane
Surname: POWELL
Wife of G T Powell
Date of birth: 1845 (approx., calculated)
Date of death: 13 Dec 1920
Date of burial: 17 Dec 1920
Ceremony by: Rev Busher
Age at death: 75 years
Address: Moor Green, Cowes
Section: H - Cemetery map
Plot No: 384 Section map of plots
Burial Register entry: Carisbrooke 8158
---
Also on this marker:
Carisbrooke Cemetery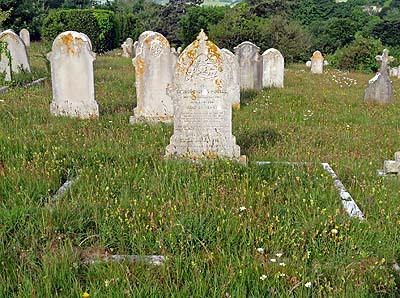 Image by: Tony Barton
---
Inscription
??
of
GEORGE THOMAS POWELL,
WHO SUDDENLY PASSED AWAY
JUNE 23RD 1894.
AGED 55 YEARS
DAY BY DAY HOW MUCH WE MISS HIM,
NO ONE ON THIS EARTH CAN TELL.
BUT IN HEAVEN WE HOPE TO MEET HIM,
EVERMORE WITH HIM TO DWELL.

COME UNTO ME ALL YE THAT LABOUR AND ARE
HEAVY LADEN, AND I WILL GIVE YOU REST.
MATT XI.28
ALSO OF HIS WIFE
ELIZA JANE POWELL,
WHO DIED DECEMBER 13TH 1920.
AGED 75 YEARS.
WATCH THEREFORE FOR YE KNOW NOT
WHAT HOUR OUR LORD DOTH COME.
MATT XXIV.42
Transcription by: Tony Barton