Admiral Sir Algernon Frederick Rous DeHORSEY
Forename(s): Algernon Frederick Rous
Surname: DeHORSEY
Retired Admiral RN
Date of birth: 1827 (approx., calculated)
Date of death: 22 Oct 1922
Date of burial: 25 Oct 1922
Ceremony by: Rev Miles C Berkeley
Age at death: 95 years
Address: Melcombe House, Queens Road, Cowes
Section: C - Cemetery map
Plot No: 203 Section map
Burial Register entry: Carisbrooke 8428
---
External link(s):
---
---
Also on this marker:
Carisbrooke Cemetery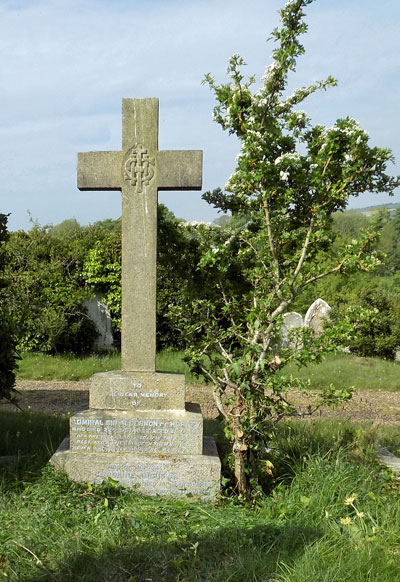 Image by: Tony Barton
---
Inscription
TO
THE DEAR MEMORY
OF
ADMIRAL SIR ALGERNON DE HORSEY.
WHO DIED 22ND OCT. 1922, AGED 95 YEARS.
THEN ARE THEY GLAD, BECAUSE THEY ARE AT
REST, AND SO HE BRINGETH THEM UNTO THE
HAVEN WHERE THEY WOULD BE. PS.107.V.30
AND OF HIS WIFE
CAROLINE AUGUSTAR,
BORN 23RD MAY 1825. DIED 1ST MARCH 1929.
INTO THY HANDS I COMMEND MY SPIRIT, FOR THOU HAST
REDEEMED ME, O LORD, THOU GOD OF TRUTH. PS.31.V.6
Transcription by: Tony Barton