23, Holyrood Street, Newport
Listed grade: Grade 2
Year listed: 1972
Description: C18 house refaced towards middle of C19 with red headers. 3 storeys.
Roof hidden by parapet which retains some older brickwork, stone coping. Rendered painted cornice added. 2 windows 2nd floor on block sill course, recessed, sash, glazing bars, broad rendered architraves.
1st floor flat fronted bag of 3 lights. Doric pilasters frieze and modillion cornice break forward slightly, block sill. Good late Victorian or Edwardian shop front with panelled pilasters.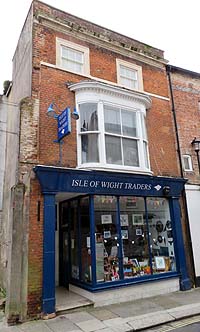 (Details from https://historicengland.org.uk/)