Bellcroft House, Staplers Road, Newport
Listed grade: Grade 2*
Year listed: 1953
Description: Very fine C18 mansion in grounds, 2 storeys. 4 windows to main block, with the centre breaking forward under a pediment containing a fluted stucco semi-circular lunette.
A small balcony on plain stucco columns. A 3 window side wing, with attached contemporary greenhouse, covering the entrance. The garden front has an elegant central bow through both storeys, containing round-headed windows. Interior has a very good staircase of the period, and particularly good contemporary decoration in the drawing-room.
Comments: 2020 Apartments.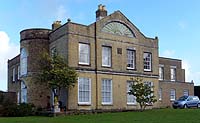 (Details from https://historicengland.org.uk/)