Pan Mill, Pan Lane, Newport
Listed grade: Grade 2
Year listed: 1972
Description: (Listed as Pan Lane, actually Furrlongs)

C18 and early C19 water mill. 2 tall blocks of 4 storeys, grey headers and red brick 3rd floor on western block, red brick eastern block. Gable end slate roofs. Windows are segment headed most with glazing bars.
Later gabled weather boarded hoists on eastern block. Later Cl9 additions of offices etc .... to north.
Comments: 2020 - Office units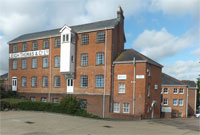 (Details from https://historicengland.org.uk/)