1 to 5 (odd), Castle Road, Newport
Listed grade: Grade 2
Year listed: 1972
Description: C18/C19 row of houses, No 1 is of 3 storeys in gault brick. Gable end slate roof. 2 windows, glazing bars. Ground floor windows: wood
cornices and Venetian shutters. Recessed door with panelled reveals wood trellis porch.
No 3 (Falcon Inn) is of 2 storeys painted brick. Old tile sable end roof. 2 windows C19 ground floor window and entrance bay.
No 5 is of 2 storeys purple grey brick with red brick dressings, cornice and parapet. 2 windows. Round headed door in plain flood case. Tile hung sides.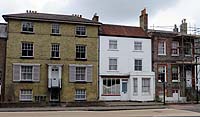 (Details from https://historicengland.org.uk/)