2 to 6 (Broadlands Terrace), Fairlee Road, Newport
Listed grade: Grade 2
Year listed: 1972
Description: (Formerly Nos 54, 55 and 56) (Broadlands Terrace)
A late C18 or early C19 terrace range, cement-rendered. 2 storeys. The centre, with 2 windows, breaks forward, and the side wings have 2 windows each, the whole composition being treated as one building. All windows in plain reveals with keystones. Moulded cornice. Small parapet. Each house has a French window, and entrance door in round headed architrave with keystones.

Nos 2 to 8 (even) form a group.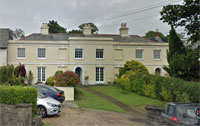 (Details from https://historicengland.org.uk/)